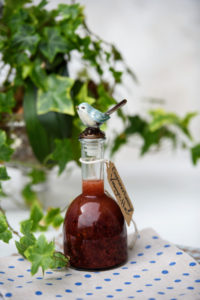 Berries come to life with the addition of balsamic vinegar. So will your salads.
1 1/2 cups mixed berries (we used raspberries and sliced strawberries)
2 tbsp sugar or honey
1/4 cup extra-virgin olive oil
1/4 cup balsamic vinegar
1/2 tsp salt
Freshly cracked black pepper, to taste
Place the berries in a mixing bowl, add the sugar and let macerate for 5 minutes. Next, use a potato masher (or the back of a fork) to mash the berries. Transfer the berries and their juice to a Mason jar, and top with the olive oil, balsamic vinegar, salt and black pepper. Secure the lid, and shake the mixture until combined. Use immediately, or store in the fridge for up to 10 days.