3/4 cup dry cottage cheese
3/4 cup ricotta cheese
1/2 cup crumbled feta cheese
1/4 cup grated Parmesan
1 egg
1 cup frozen spinach, thawed, drained and chopped
1/3 cup chopped parsley
1 clove garlic, minced
1 tsp freshly cracked black pepper
1/2 tsp salt
12 lasagna sheets
1 cup grated mozzarella (for sprinkling)
1/2 cup grated Parmesan (for sprinkling)
For the tomato sauce
2 tbsp extra-virgin olive oil
1/2 onion, minced
2 garlic cloves, peeled and chopped
1 can (800 mL) crushed tomatoes
1 tsp dried oregano
1 tsp salt
1 tsp freshly cracked black pepper
Preheat your oven to 375˚F.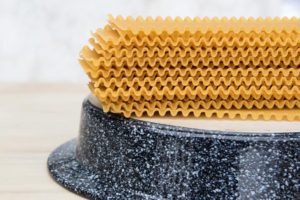 To prepare the sauce, heat the olive oil in a pot over medium-high heat, and add the minced onion. Reduce the heat to medium, and let cook 5 minutes, stirring occasionally. Add the garlic, and stir again. Next, add the canned tomatoes, oregano, salt and pepper. When the sauce begins to bubble, remove the pot from the heat, and
set aside.
In a medium-sized mixing bowl, combine the feta, dry cottage cheese, ricotta and Parmesan. Next, mix in the egg, spinach, parsley, garlic, black pepper and salt.
Bring a large pot of salted water to a boil, and cook the lasagna noodles according to the directions on the package. While the noodles are cooking, cover the bottom of a baking dish with 1 inch of the tomato sauce.
Lay the cooked noodles flat on a work surface, and spread an even layer of the cheese atop each noodle. Gently roll up each noodle, and place them seam-side down in the prepared baking dish. Top each roll with a dollop of sauce, and sprinkle on the mozzarella and Parmesan. Bake in the preheated oven for 30 minutes, and serve while hot.