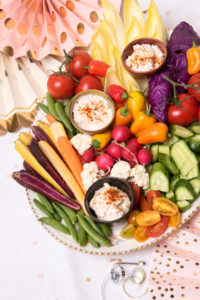 A beautiful crudités platter or a bowl of tortilla chips can be elevated by adding a homemade dip such as this one which involves roasting whole shallots slowly in the oven.
4 large, unpeeled shallots, roasted and minced
½ tsp. kosher salt
¼ tsp. pepper
½ c. sour cream (Greek yogurt is a great substitution)
½ c. mayonnaise or Miracle Whip
Preheat oven to 425º. Wash and dry the shallots, leaving the skin on. Place them on a baking sheet and roast for 35-40 minutes, turning them halfway through the cooking time.
Let the shallots cool and then peel them. Mince the shallots and set aside. Mix together the salt, pepper, sour cream and mayonnaise. Add in the shallots, stir and serve alongside raw veggies, tortilla chips or use as a sandwich spread.