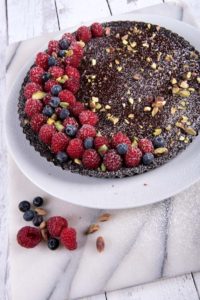 When a serious chocolate craving calls, answer with this no-bake masterpiece.
30 Oreo cookies (original, chocolate, vanilla or mint)
1/2 cup unsalted butter, melted
3/4 cup whipping cream
1 cup milk chocolate chips
1/2 cup of bittersweet chocolate chips
2 tbsp Baileys Irish Cream
1 tsp vanilla extract
1/4 tsp salt
Berries, to garnish
Chopped pistachios, to garnish
Powdered sugar, to garnish
In a food processor, blitz the cookies until they are crumbs. Add the melted butter, and blitz again until moistened and combined. Press the crumb mixture into the bottom and up the sides of a round, 9-inch tart pan with removable bottom. Place in the freezer to chill 10 minutes.
Heat the cream in a small pot over medium heat. When it's hot (not boiling), remove the pot from the heat, and stir in the chocolate chips, Baileys Irish Cream, vanilla and salt. Continue stirring until smooth. Pour the chocolate filling over the prepared crust, and place in the fridge to chill for 3 hours. Decorate with berries and pistachios, dust with powdered sugar and serve.