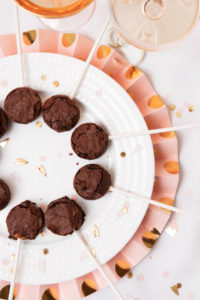 Halva is a sweet confection originating in the Middle East. The base flavour can vary between a sunflower seed paste or a tahini (sesame seed). It can be bought with different types of nuts, dried fruit or chocolate. For this recipe, plain tahini halva was used.
1 c. all purpose flour
½ tsp. kosher salt
6 oz. dark chocolate, chopped
1 oz. unsweetened chocolate, chopped
¼ c. cocoa
¾ c. unsalted, cubed butter
1 c. dark brown sugar
½ c. white sugar
2 tsp. vanilla extract
4 room temperature eggs
½ c. chopped halva (half-inch cubes)
You will also need 24 lollipop sticks and a small circular cookie cutter.
Preheat the oven to 350ºF and line and spray a 9 x 9-inch pan with parchment paper and cooking spray.
In a bowl, whisk together the flour, and the salt, set aside.
In a heat-proof glass bowl, add in the dark chocolate and the unsweetened chocolate. Place the glass bowl over a gently simmering pot of water, ensuring the water is not touching the bottom of the bowl. Stirring occasionally, melt the two chocolate types together and remove from heat and place on a dry dish towel.
Whisk the two types of sugar and vanilla into the melted chocolate. Let this mixture cool so when the eggs are added they aren't cooked!
Whisk in the eggs, one at a time. Make sure the eggs are fully incorporated into this mixture. Add in the flour mixture and switch to a wooden spoon and fold the flour mixture in. Finally, fold in the chopped halva.
Pour the brownie batter into the prepared pan and bake for 20-25 minutes, this will yield a fudgy brownie. Cool the brownies in the pan for 20 minutes and then remove them from the pan using the parchment sleeve. Place on a cooling rack and cool completely, overnight is fine.
Using the circular cookie cutter, cut out the brownie pops, at this stage they can be popped into the freezer. Otherwise, put the lollipop stick into the centre of the brownie and repeat with the rest of the brownie pops. This is a delicious, rich treat to cap off any party! t8n