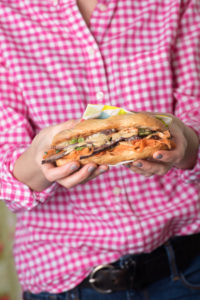 Flank steak is already a flavourful cut of meat,
and this citrus-ginger marinade lends a bright
zesty flair—perfect for slicing into our Vietnamese Sandwiches: pictured right
(see our recipe on p. 23).
½ cup lime juice
2 tbsp lemon juice
2 tbsp soy sauce
2 tbsp grated ginger
1 tsp ground coriander
1/8 tsp red pepper flakes (to taste)
2 green onions, thinly sliced
1.5 lbs flank steak
For the marinade, combine the first 7 ingredients in a bowl or re-sealable bag. Place the flank steak in the bag or bowl and marinate for 45 minutes at room temperature. (Take care not to marinate too long; the acid in the citrus juices will start to 'cook' the meat.)
Preheat your grill to medium-high 30 minutes before the meat has finished marinating. Grill the steak, turning only once, about 4 minutes each side. Turn one burner down to low, transfer the meat to the low side, and continue cooking to desired doneness. Let the steak rest for 10 minutes before slicing.