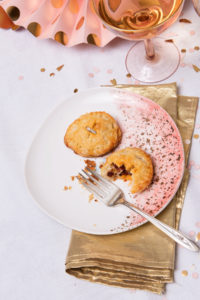 These tangy little hand pies are a great appetizer served alongside a quick dip made with ketchup, sriracha and chopped fresh cilantro!
1 package of store bought pie dough (Feel free to use homemade)
2 tbsp. butter
1 medium russet potato, peeled and cut into ¼" cubes
1 tbsp. olive oil
¼ c. diced yellow onion
1 lb. fresh chorizo sausage, casings removed
½ tsp. kosher salt
¼ tsp. ground cumin
a pinch of red pepper flakes
1 large egg, beaten
4 tbsp. grated manchego or Monterey Jack cheese
2 tbsp. fresh cilantro, chopped and divided
Line two baking sheets with parchment paper and set aside. Preheat the oven to 425ºF while cooking the chorizo.
In a medium sauce pan, heat butterover medium-high heat. Add in the cubed potatoes in a single layer in the pan. Cook, without stirring for about 6 minutes until golden brown on one side. Carefully turn the potatoes and cook for 5-6 minutes on the other side. Transfer potatoes to a paper towel lined plate, cool and set aside.
Using the same skillet, reduce the heat to medium and add in the olive oil and onion. Cook until translucent, 3-5 minutes. Add in the chorizo, salt, cumin and red pepper flakes. Cook, stirring and breaking up the meat throughout, until the chorizo is brown, approximately 6-10 minutes. On a paper towel-lined plate, spoon out the chorizo and drain and cool.
On a floured surface, roll out the dough to a ⅛-inch thickness. Using a 2½-inch round cookie cutter, cut out tops and bottoms for mini pies and lay them out on the parchment lined sheets.
Assembly line steps: Brush the edges of the pie bottoms with beaten egg. In the centre, dollop ½ tablespoon of the chorizo mixture, 3-4 potato cubes and a sprinkle of cheese. Pop the top on and using a fork, crimp the edges to seal the pie. Cut an "X" on the top of each pie to allow for steam to escape. Repeat for the remainder of pies.
Finish by brushing the top with egg wash (beaten egg) and bake until golden brown, about 12-17 minutes.