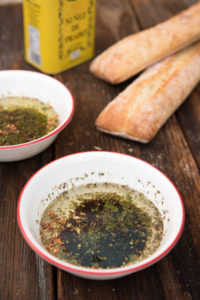 Fancy appetizers have their place, but there's just no beating a saucer of balsamic-spiked olive oil and a plate of warm bread to dip in it.
1 loaf freshly baked bread (See our no-knead boule recipe on t8nmagazine.com)
1/4 cup extra virgin olive oil (break out the good stuff)
2 tbsp balsamic vinegar
1/8 tsp salt
Freshly cracked black pepper, to taste
Dried oregano (or fresh), to taste
Red chili flakes, to taste
To a Mason jar, add the olive oil, balsamic vinegar, salt, black pepper, oregano and chili flakes. Secure the lid, and shake the jar. Pour the mixture into a shallow saucer, and serve with a plate of freshly sliced bread.