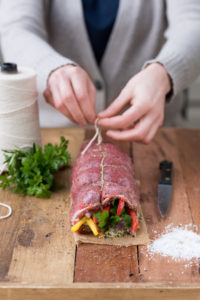 Looking to show off a little? Give this gorgeous roulade a try.
1.5 lb flank steak, pounded flat with a mallet
1/2 purple onion, thinly sliced
1/2 sweet red pepper, thinly sliced
1/2 yellow pepper, thinly sliced
Salt and freshly cracked black pepper, to season
For the pesto
1/2 cup walnut halves
1/4 cup extra-virgin olive oil
1 tbsp yellow mustard
2 tbsp capers
3/4 cup chopped parsley (packed tightly)
1/4 cup grated Parmesan
2 cloves garlic, peeled
Salt and freshly cracked black pepper, to taste
Preheat your oven to 350˚F, and take out a large, oven-safe pan.
Place the walnuts, olive oil, mustard, capers, Parmesan and garlic in a food processor. Secure the lid, and blend until smooth. Taste the pesto, and add salt and pepper to your liking. Pour the mixture into a mason jar, and store in the refrigerator for up to 2 weeks.
Place the flattened steak on a work surface in front of you, with the longest side facing you. Next, spread a thin layer of pesto on the meat, leaving a 1-inch empty border on all sides. Atop the pesto, arrange the onions and peppers in a thin layer. Next, starting at the end nearest you, gently roll up the roulade as you would a beach towel or carpet. To secure the roulade closed, tie the meat with 12-inch strips of butcher's string every 2 to 3 inches along the roulade. Season with salt and pepper, and set aside.
Heat 1 tablespoon of oil in a large, oven-safe pan over high heat. Add the roulade to the hot pan, and sear it on all sides. When seared, transfer the pan to the preheated oven, and cook the roulade for 20 to 25 minutes (depending on the thickness). Remove from the oven, and let rest 10 minutes before slicing.