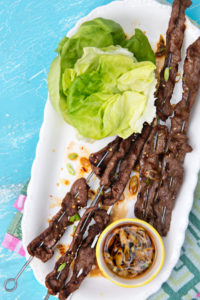 This delicious beef dish has its origins deeply rooted in Korean cuisine. Thinly sliced beef paired with a tangy marinade are traditionally served alongside rice or popped into a lettuce leaf for a crispy wrap-like meal. Ribeye, sirloin and brisket all work great in this recipe; just remember the key is very thinly cut strips of beef. Think razor thin!
3 sirloin steaks, thinly sliced, 1/8" thin approximately
2 tbsp. soy sauce
1 tbsp. rice vinegar combined with 1 tsp. white sugar or use mirin
3 tbsp. brown sugar
2 tbsp. grated, fresh ginger
juice of 1 lemon
½ tsp. red pepper flakes
1 tbsp. sesame oil
Pop the steak into the freezer for 30-45 minutes; this will make cutting the steak into thin slices much easier. While the steak is firming up, put together the marinade. Combine the soy sauce, sugars, vinegar, ginger, lemon juice, pepper flakes and sesame oil in a food processor or the container for a hand blender. Whiz up until smooth and pour into a large bowl.
Working with one steak at a time, leave the remaining steaks in the freezer, thinly slice the beef and add into the marinade. Marinate the meat in the fridge for up to two hours, but no more than that. The acidity from the lemon will break down the meat protein too much.
Heat the grill to a medium-high heat. Skewer the beef and cook.  Grill the skewers 3-5 minutes per side, make sure there are lovely grill marks on each side.
Serve with rice, butter lettuce leaf cups and a sweet and salty dipping sauce.
Dipping Sauce
1 tsp. sambal oelek
2 tbsp. lemon juice
2 tbsp. lime juice
2 tbsp. soy sauce
2 tbsp. sugar
¼ c. rice vinegar
2 tbsp. flavourless oil (sunflower, canola, grapeseed)
¼ c. slivered green onions
Whisk to combine. Serve alongside the beef bulgogi or use as a drizzle over top of the rice.