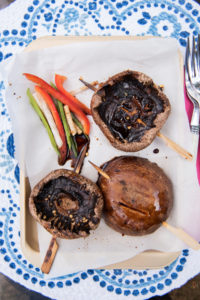 This is a fantastic vegetarian option for a skewer party! These mushrooms are delicious with any cooked grain, but would also be yum on a bun, burger style.
14 portobello mushrooms
½ c. Balsamic vinegar
¼ c. soy sauce
3 tbsp. honey
½ tsp. kosher salt
½ tsp. red pepper flakes
½ tsp. black pepper
Remove the stems from the mushrooms and use a spoon to scrape out the gills. In a bowl, combine the vinegar, soy sauce, honey, salt, red pepper flakes and pepper. Whisk all the ingredients together.
In a glass casserole dish, place the mushrooms cup side up. Drizzle the marinade overtop, cover and let the marinade soak in for
30-45 minutes.
Heat grill to medium-high.
Skewer the mushrooms (any kind of skewer will work, wood, stainless steel) and make sure the skewer goes through the meatier portion of the mushroom. Two mushrooms will fit on a skewer but doing them one at a time works too.
Place the skewers on the grill with the mushroom cup up to hold any extra marinade. Grill for 2-5 minutes per side until brown grill marks are present. Serve warm and enjoy! t8n