You could say pickleball is a mixed bag. After all, it sees players on a doubles badminton-size court knocking a perforated plastic ball back and forth over a tennis-type net. If this sounds like fun, then join the club (literally). The game's popularity has exploded over the last few years, and according to Pickleball Canada, 60,000 Canadians enjoy it—including several hundred right here in the St. Albert Pickleball Club.
Part of what makes pickleball so popular is that it's easy to pick up and play. It combines the tactics and rules of tennis, badminton, ping pong and even volleyball, but without the learning curve or steep physical demands of those sports. "I like it because it's similar to tennis, only there's a lot less running," says John Sandmoen, a member of the St. Albert Pickleball Club, who points out that because the court is smaller than a tennis court, the game is not as strenuous. That the sport is active yet easy on the body makes it perfect for ages two to 92. Well, maybe age two is a bit young, but the Pickleball Canada slogan is simply "A Game for All," and they mean it—they fully encourage bending the rules to make it accessible to everyone, including kids.
The Gameplay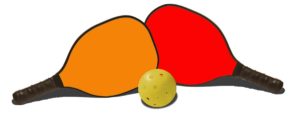 Make no mistake, though—pickleball can be competitive, and at higher levels Sandmoen explains that the game is very fast. While pickleball draws from various racquet sports, it's the energy of tennis that invites the most comparison. But there are key differences, aside from the court and equipment. Serves must always be underhand, and a double-
bounce rule is in effect, where both the serve and the initial return must bounce once before being played (in tennis, only the serve has to bounce). Then there's the "kitchen"—a seven-foot zone on either side of the net where players are not allowed to volley the ball. These rules stop the more aggressive tactics of tennis, and help make pickleball a sport of positioning and cunning, rather than sheer power.
Like all well-organized sports, there are governing bodies that standardize rules and equipment, oversee tournaments, and define a ratings system. Pickleball Canada sanctions a bevy of events throughout the warmer months. A big one is the Canadian National Pickleball Tournament being held July 6–8 in Kelowna this year. It's a serious affair, with players competing in single and double events organized by age group and tournament rating.
Inventing a Sport 101
As you might have guessed, pickleball's origins are fairly recent—and not so far away. The game was invented in 1965 on Bainbridge Island, Washington, by the friends and family of state representative Joel Pritchard. Looking to get some badminton going on a dull Saturday afternoon, they found they didn't have the proper equipment. So they improvised: ping-pong paddles and a Wiffle ball were brought out, and the net was lowered to 36 inches. The game proved to be a hit in the neighbourhood, and by the 1970s it had started to catch on across the U.S. and into Canada.
Pickleball Comes to St. Albert
The St. Albert Pickleball Club was founded as a registered non-profit society in 2014, and in a few short years the club has grown exponentially to upwards of 330 members. "The growth has been steady and significant and shows no sign of letting up," Sandmoen says. While the club has been playing at venues including Larose Park and indoors at Red Willow Community Church, as membership grew the need for a more permanent home became clear. As a result, last November the city approved a $276,900 budget to refurbish the tennis courts at Alpine Park in Akinsdale. The result will be 12 individual, tournament-quality pickleball courts, expected to open later this year. As club president Eileen McClean puts it, "This is wonderful for our club." Indeed—with an enthusiastic membership and a brand new home, it appears St. Albert is on the pickleball map. t8n
Game On
The St. Albert Pickleball Club welcomes newcomers, and even offers free lessons for beginners. Membership fees are $30 per year; fees for indoor play are $3 for members and $5 for non-members (the outdoor events are for members only). pickleballstalbert.ca
What's in a Name?
Two sources are often given for pickleball's odd name. One is the Pritchard's family dog Pickles, who would often run away with the ball. Another comes from the "pickle boat"—the last boat to finish a race in yachting, its
mismatched crew often made up of stragglers from other boats.