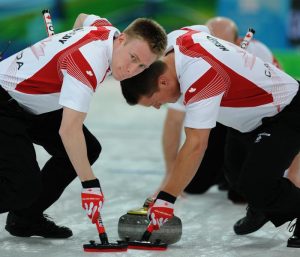 A T8N interview
When it comes to curling, there aren't many awards that Marc Kennedy hasn't won. But despite winning countless international competitions, world championships and even an Olympic gold medal, Marc hasn't lost sight of the importance of his own community, or how it's helped him achieve greatness in his sport. Even now, at the height of his career, he's finding ways to give back to St. Albert, in appreciation for all of the opportunities that this city gave him while he was just a young boy, sliding stones across the local rink. We sat down with Marc to ask him about his life as a curler both in St. Albert and around the world. Here's what he had to say.
t8n: How do you think that growing up in St. Albert has influenced your career?
MK: I was born and raised here, and I still love it. It's always had a really great sports community, and I was into everything, not just curling. Soccer, football, karate—just about everything really. I grew up playing sports and loving the community, and I had some great coaches along the way. Being around all of those sports and all of those people really helped me become who I am. And that's one of the main reasons that I'm still in St. Albert raising my own family. It's just a great community for young people to grow up in.
t8n: Have you noticed any changes in the community since you were growing up here?
MK: It's definitely changed and has gotten a lot bigger, but one of the reasons I still love it is because it's kept that small-town feel. It's a tight-knit community, and you see a lot of the same faces everywhere you go. When I go to the grocery store, I see a lot of curling fans, and they're not afraid to come right up and talk to me. A lot of them even remember me from when I was a kid. That small-town feel is hard to come across these days.
t8n: Your current team, Team Koe, is based out of Calgary. Does that make it difficult to practice as a team?
MK: We've got two team members in Calgary and one in Barrie, Ontario, but we still manage to meet up to practice probably about five times a year. Otherwise, I practice on my own here in St. Albert. For the last five years or so, I used to train at the Saville Centre at the University of Alberta, which is one of our national training centres for curling here in Canada. The Saville Centre is great, but last year I turned my focus to training here in St. Albert. The staff at the St. Albert Curling Club have been really good to me, and it's where I first started out in the sport, so there is a lot of nostalgia here as well. Lots of great memories.
t8n: You've been mentoring young curlers in our community and even host the Marc Kennedy Junior Classic. What drew you to that mentorship role?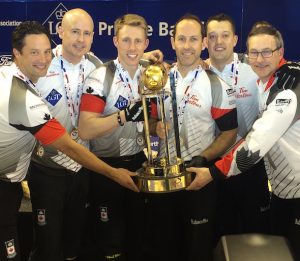 MK: We've always done a lot of junior clinics, and I've always enjoyed coaching and teaching. Kevin Martin used to run a curling junior spiel for about 17 years, but last year he decided to stop. So there was an opportunity for us to take over for him. My wife Nicole and I really wanted to do it closer to home, and ideally here in St. Albert. We knew the community would get behind it, and it was a good opportunity to showcase our city, as well as the curling club. And sure enough, people seemed to love it. It was great to give back to a game and to a city that has been so good to me. And it gives the kids something that they can enjoy. I used to love junior bonspiels when I was young, and the fact that I was able to bring that home to St. Albert means a lot to me. I really can't say enough about how good the community was in stepping up and raising money to fund the program. We were able to buy really great quality equipment for the kids to use for practice.
t8n: You've won a lot of medals over the years, including a gold in Vancouver's 2010 Olympic Games. Do you consider that your greatest achievement?
MK: It's definitely up there. The Olympics are pretty much the pinnacle of our sport, and that's the main reason we're still training is to try to get back there. But that certainly doesn't take away from the other championships we've been in.
We've done a couple of briers and the world championships, and they're all big for us. I've been so fortunate that the sport has been good to me. I've had tremendous teammates over the years, and I've been lucky to play with some of the greatest curlers who have ever played.
Our next goal is to get back to the Olympics in 2018. We've got our spot in the trials next December, so all we have to do is keep up with the training. We've got to get comfortable in that kind of pressure and come together as a team. If we keep playing our best in these national games and improving in these little areas over the next year, we'll be on our way to South Korea.
t8n: Do you consider all of these national games, and the world championships in Switzerland last year, to be part of that Olympic training?
MK: I do. They're all important when it comes to getting better. When we play events here in Canada, we're really playing against the best curling teams in the world because all of the best teams are from this country. We play those national teams week in and week out, and that goes a long way toward improving our skills.
The world championships last year really gave us some international experience, and we got to know what those international teams play like. If we do get to represent Canada at the Olympics, we're already familiar with the teams and the types of ice that we might have. Those things are all important. There isn't an event we play now where there isn't something we're using as training.
No matter where Marc's career takes him, from Switzerland to South Korea, he always manages to keep St. Albert close to his heart. After giving so much of his time and energy back to our city, the appreciation is mutual.  t8n