Make no mistake, the cocktail is back. And what better time than patio season to try this trend on. Not much of a mixologist? You don't have to be. These beauties are as easy to make as they are to sip. Enjoy responsibly!
Cherry Mojito — Um, yes please. This sipper starts with 8 to 10 mint leaves and a wedge of lime in tall glass. Next, add 1 tbsp of sugar, and muddle to release the oils and juices. Add 8 pitted cherries, a second wedge of lime and muddle again. Next comes some ice, 1 generous oz of rum and a splash of seltzer. Stir, garnish and serve.
Lavender Collins — If you like a spin on a classic, this could be your cocktail. To a glass filled with ice, add 2 oz of gin, a big squeeze of lime and 1 dash of absinthe. Top with lavender soda, and garnish with lime. Bonus points for adding lavender sprigs.
The Paloma — Grapefruit drinks were made for summertime. And this one just might be a little too easy to make. Fill a tumbler with ice and add 1 1/2 to 2 oz of your favourite tequila. Top with grapefruit pop and a squeeze of lime. Sip slowly.
The Bramble — It's time to bring back the Bramble. Especially now that blackberries are in season. Thiws one starts with a highball glass. To it add 9 or 10 blackberries and the juice of half a lemon. Gently muddle to crush the berries, and then top with ice. Pour in a generous oz of your favourite dry gin and a scant oz of crème de mûre. Stir, garnish with lemon and enjoy.
Pimm's — For a classic English drink, it's got to be a Pimm's. This one starts with a few sprigs of mint in a tall glass. To it, add 6 or 7 shaved slices of cucumber and a splash of sparkling lemonade. Then gently muddle. Next comes the Pimm's, about 1 1/2 to 2 oz. Add a handful of ice, a splash of elderflower liqueur, and top with more lemonade. For a classic garnish, add a strawberry or a long curl of cucumber peel.
Dark 'N' Stormy — If you like a Moscow Mule, you'll love a Dark 'N' Stormy. Making one couldn't be easier. Add ice and a generous oz of your favourite dark rum to a tall glass. Slowly pour in a delicious ginger beer, and add a squeeze of lime juice. An instant classic.
Blackberry Bourbon Lemonade — Oh yeah, this one's got punch. In a cocktail shaker, muddle 10 blackberries with 3 mint leaves and a ribbon of lemon zest. Add 1 tbsp of squeezed lemon and 1 tbsp simple syrup. Next comes the bourbon whiskey, about 1 1/2 oz. Stir to combine, and strain into ice-filled glasses. Garnish with whole blackberries and a simple slice of lemon.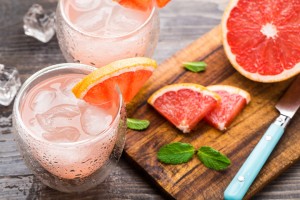 A Taste for Bitters — Bitters had their beginnings as medicinal tonics and digestive aids. Nowadays, they're the secret ingredient in cocktails. Made from a variety of herbs, fruits, roots and spices, these concentrated flavours are best used by the dash. Some classics to start with are orange, lemon, creole, celery and—possibly the most popular—Angostura.