I opened Concept Jewelry Design, in St. Albert in 2006, offering innovative artisan jewelry collections, in-house collections and jewelry design services with 'custom' design being the forte of the business. And having worked in the jewelry industry now for over 30 years—I've learned that in order to see my business succeed, I must be consistent with quality and service. I also have to be willing to embrace change and growth.
The idea of expanding my offerings has been resonating with me for a while, however, what would best complement my existing artisan jewelry business? Then last Christmas, my daughter gifted me with Pure Essentials, a local brand that makes natural apothecary products.
I immediately fell in love with the product line, so much so that I wanted to share it with my clients. I introduced Pure Essentials to my shop in April. Since then, I've added handcrafted natural soap, botanical perfume oils, balms, bath soaks, wool dryer balls, Turkish towels, and natural botanical candles. I've been able to source everything from Canadian artisans.
We're continuously researching and testing natural apothecary and artisan lifestyle products that we find interesting. By testing first, we can confidently recommend and offer our clients products that we know are high quality and effective. We'll continue to introduce new products that will be just that—natural makeup, artisan knitwear, inner-beauty health potions, and more.
However, we'll never lose sight of our original passion—jewelry design! I'm driven by creativity and creative people, and I'm excited for the new changes and future growth to our business.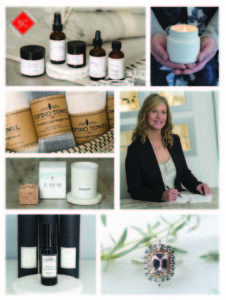 A Glimpse of What's on the Shelves
Pure Essentials: Handmade in small batches in Spruce Grove, AB, this eco-conscious brand uses natural and organic ingredients.
Hollow Tree Candles: Handcrafted in small batches within the Coastal Mountains of British Columbia. This former forester with a passion for trees, worked for years with French perfumers in Grasse, France to mix memories of the forest into scents for these premium coconut wax candles.
Tofino Turkish Towels: Designed in Tofino, BC, and hand-loomed in Turkey using premium cotton and bamboo.
Tofino Soap & Candles: Made in Tofino, BC, with local and 100% natural ingredients such as organic wild-foraged botanicals and cold-pressed coconut and olive oil.
Flore Botanical Alchemy: Wild-crafted and formulated on Vancouver Island. These luxury artisan natural perfumes, plant potions, and candles are made with locally gathered ingredients and rare, ethically-sourced oils.
Modern Vintage Concept Collection: In-house jewelry collection designed by owner Carmen Bokenfohr. Vintage-inspired styles combined with current trends to create a unique collection of vintage jewelry with a modern appeal.
120-20 Perron Street, St. Albert I 780 458 4660 I
This sponsored content was produced in partnership between Concept Jewelry and T8N Magazine