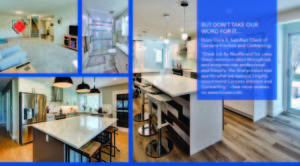 We've all lived through some type of home renovation. Whether it's just painting the walls or gutting the entire main floor, your normal routine is disrupted and you're always having to deal with a crazy maze of debris. What if you can avoid the stress and mess? Caruana Interiors and Contracting can greatly reduce these by doing your home renovation while you're
on vacation.
The Caruana team can renovate your kitchen, basement, put on an addition to your house or convert the space above your garage into a bedroom. Most major projects take about three months, but it may go faster if you and the workers aren't constantly navigating around each other. Instead, imagine receiving photos and regular progress reports of your renovation while sitting in the comfort of your poolside lounger.
Your free consultation is done at your home with Neville Ward, owner of Caruana Interiors, and their in-house interior designer so they can see firsthand the area to be redesigned, discuss the vision of your new space, and go over options that keep within your budget. After a trip to their suppliers, you'll receive an itemized estimate clearly outlining what each item will cost. Plus, with various payment options, including payment plans and credit card, you can feel at ease about your home renovation before any work has started.
While you're away, Caruana takes the security of your home seriously. And here's a perk worth its weight in gold—they check on your house every two days, thereby fulfilling insurance terms that stipulate regular visits while you're away. If the project is finished early, Caruana will still check on your home until you're back from vacation.
If you like to follow the birds south during the winter, this could be the best time to have your house renovated by Caruana Interiors. Just think, you won't have to breathe in drywall dust, use the neighbourhood gym for a shower, or wear noise-cancelling headphones to drown out the din of power tools. Instead, go on vacation and enjoy a hotel room you don't have to clean, have running water whenever you want, and the only noise you have to worry about is the sound of the ocean lulling you to sleep.
But Don't Take Our Word for It…
From Ciara R, Satisfied Client of Caruana Interiors and Contracting:
"Great job by Neville and his crew. Great communication throughout, and everyone was professional and friendly. The final product was exactly what we wanted. I highly recommend Caruana Interiors and Contracting." —See more reviews on www.houzz.com.
This sponsored content was produced in partnership between Caruana Interiors and Contracting and T8N Magazine