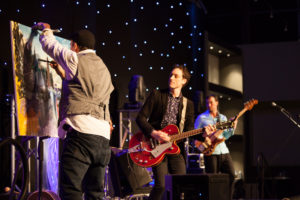 A hockey player with a fine arts education? You might be asking yourself, is this the start of a witty anecdote? It's not. Phil Alain played hockey at Grande Prairie College while attending its fine arts program. While an unusual background, it helped Phil approach creating, showing and appreciating art from a new perspective after his first-ever gallery showing.
A gallery asked if he'd be willing to do an exhibit, and like any art student, he jumped at the chance. He invited everyone he knew, which at the time, were mainly hockey players. "I had a lot of support at the show, a lot of people came out, [but] you could see that the hockey players felt a little awkward being at an art gallery…within 25 minutes the gallery was empty," remembers Phil. Although the setting intimidated the players, Phil said he noticed they liked looking at his artwork. This set him thinking about how to make the art gallery environment more enjoyable and comfortable such as going to their local sports club.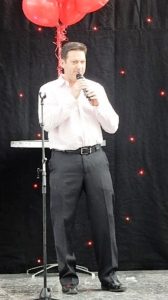 This epiphany set in motion a successful annual event called Night of Artists (NOA). Now in its 20th year, this art show began at the St. Albert Community Hall. Phil brought in his sister and friend to showcase their music, plus there was a DJ, refreshments, places to sit and, of course, his artwork. He says he basically created a "hall party" where the guests stayed for four hours instead of just 25 minutes; people ate and drank, looked at the artwork, mingled with guests, went back to the artwork and even bought some of it. The next year, he asked another artist to show his work alongside his own, and the year after that he added six more artists. He went across the country pitching his alternate gallery show to artists and sponsors. At one point, he was presenting 13 shows in one year. He admits he still has no idea how he did it.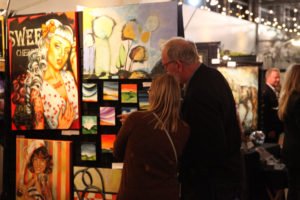 About four years ago, Phil applied for and received the City of St. Albert's Event Stimulus Fund, and because of this financial support he was able to bring the NOA up a notch. He's has a wider variety of artists, and this is the first year where he had to turn away artists. The NOA is a way of adding depth to that piece of art a person has just purchased. "It's a great way to connect with artists, because most of the time if you buy a piece of art or hear a piece of music, you may never know the person behind it. It's amazing how much more interesting an art piece is when you've actually talked with the artist," explains Phil. So, if you feel a little out of place in an art gallery, don't be. The person next to you may be a hockey player who might be feeling just as awkward as you.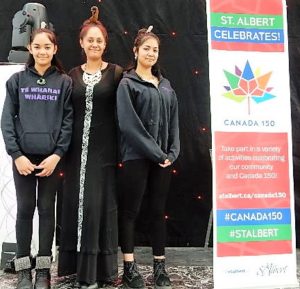 Phil and his two business-artists partners Lewis and Paul Lavoie have a new project called Mural Mosaic. This joint venture began when Phil approached Lewis to see if he'd be willing to do a mural where the tiles were painted by the artists who participated at NOA. They were hesitant if it would even work, but they decided to try. They booked the West Edmonton Mall's ice rink and proceeded to hold a 24-hour Paint-A-Thon with all the NOA artists. This mural brought in the media; the media brought in requests for more murals. The mural they created for the Alberta-Saskatchewan Centennial was unveiled in the presence of Queen Elizabeth II, however,  it was the mural they did for Cochrane, Alberta, that seems to stand out for Phil, Lewis and Paul. The town of Cochrane had limited funds, and the three men had limited time, but they set to work because the town was passionate about having this mural done. "Once the mural was completed, the town was just so overwhelmed. It brought everyone together: the First Nations community, the Mayor's Office—people who weren't really connected were suddenly united through this mural," says Phil. He said the town was so proud of it they shared it online. The Mural Mosaic website went from 100 hits a day to 1000, and within two weeks there were about 150,000 hits on their website.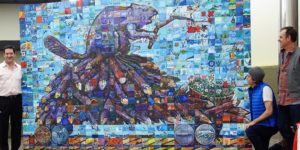 With Canada celebrating its 150th birthday, the Mural Mosaic team are hoping to connect Canada from coast to coast to coast with murals like a train across the country. Whenever a community requests to be a part of the project, the team drive out, hold a workshop where the people paint a tile of whatever they want and the tiles are arranged in a Canadian image. Right now, 40 murals have been completed, (and last weekend St. Albert will be the 41st), and they have until the end of the year to connect Canada's communities together with 80,000 painted tiles.
If you want information about Night of Artists go to www.nightofartists.com. If you want more information about Mural Mosaics or the 150 Project Mural go to www.muralmosaic.com.