Whether you want to believe it or not, the holiday season is almost here. As festivities and merriment get underway, last minute scrambling and unexpected visitors are bound to come knocking at your door. To avoid unnecessary stress, stock up on these eight pantry essentials to be prepared for anything the season may throw at you.
Grand Marnier Liqueur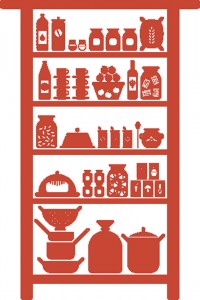 Classic use: This orange-flavoured cognac liqueur is perfect to serve after dinner. Offer it as a sipping liqueur, in tea or as part of a holiday-inspired cocktail.
In a pinch: Grand Marnier is perfect for making the ordinary extraordinary—drizzle it over ice cream or strawberries, on top of baked brie with pecans or treat overnight guests to Grand Marnier French toast in the morning.
Chocolate
Classic use: Keep a box of chocolates and a few bars of milk chocolate tucked away in the pantry. If you have limited time to bake something before an impromptu get–together, you'll still be able to make a quick treat like holiday "bark" or microwave fudge.
In a pinch: If a last-minute party pops up, you can put out the box of chocolates or cut up the milk chocolate into large jagged pieces to serve alongside cheese, crackers and dried fruit.
Pesto
Classic use: This sauce, traditionally made from garlic, basil and pine nuts, can be used on many different dishes to add a delicious burst of flavour—spoon pesto on breads, pizza, pastas or salads.
In a pinch: Pesto will add dimension to any veggie platter. For a quick and brag-worthy dip, stir a giant dollop of pesto into a bowl cottage cheese. For an app, spoon pesto over skewers threaded with colourful miniature tomatoes and cheese.
Crackers
Classic use: A few boxes of your favourite crackers are a must-have, perfect on the side of almost any platter. Pair a thick, garlic–flavoured cracker with savoury foods or a thinner, simple cracker with sweets.
In a pinch: Crackers can also be crushed and used as an unexpected ingredient. Ritz Crackers, for example, are the secret ingredient in many recipes for casseroles, cracker candy toffee and homemade butterfingers.
Holiday Spices: Cinnamon, Cloves & Nutmeg
Classic use: Cinnamon, cloves and nutmeg are essential for holiday baking (think bread puddings and pumpkin pie). They can also be sprinkled over specialty coffees.
In a pinch: If guests are on their way but your house is less than tidy and still smells like yesterday's fish sticks, throw some cinnamon, cloves and nutmeg into a pot with some fresh cranberries, half an orange and some apple juice. Let the mixture come to a boil while you tidy up and, before you know it, the house will smell fabulous.
Honey
Classic use: Honey will literally last forever and can be used in many dishes as a natural sweetener. For a luxurious taste, drizzle it in your tea and over apple slices and on cheeses such as brie, camembert, gruyere—even bold blues. Honey can also be used as part of sweet meat dishes (like ham, shrimp or chicken), curries and homemade honey–garlic wings.
In a pinch: If your last-minute dinner is feeling a bit flat, add some honey to your roasted veggies, like carrots or beets, to give your guests a tasty surprise.
Apples
Classic use: Apples are so versatile—you can enjoy them as an ingredient or as a garnish. Pair slices of crisp, green apples with cheese, crackers and chocolate. For a flourish, use apple slices to garnish a pork roast or a mug of cider.
In a pinch: A simple dessert that's perfect for the holidays is baked apples. Core the apples, stuff the cavities with a tbsp of butter and of brown sugar, sprinkle with some holiday spices and bake in a 350˚F oven for 30 minutes.
Artisan Jam
Classic use: Beautiful jams can make ordinary crackers and bread taste deluxe. Jam doesn't always have to be sweet, either. Hot-pepper jam is fantastic on cheese.
In a pinch: Baste meat dishes with fancy jam to dress up dinner. Jam will also add flair to desserts like cookies, ice cream or fruit. t8n
Did You Know?
Cinnamon, nutmeg and cloves all have health benefits. Cinnamon has been proven to reduce inflammation and regulate blood sugar, nutmeg is antimicrobial (fights bacteria) and cloves have played a significant role in dental health.
The Pantry that  Keeps on Giving
If you find yourself as a last-minute guest at someone else's house, use some of the eight pantry essentials to create a quick hostess gift. A jar of artisan jam or honey, a sleeve of tasty crackers and a bar of great chocolate slip perfectly into a wine bag and make a lovely gift.
Illustration  © andromina / Dollar Photo Club