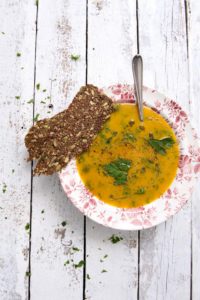 These hearty and healthy, flavour-packed crackers add the perfect crunch alongside a bowl of creamy soup.
1/2 cup chia seeds
1/2 cup quinoa seeds
1/2 cup ground flaxseed
1/2 cup pumpkin seeds
1/4 cup toasted sunflower seeds
1/4 cup whole flaxseed
1/2 tsp salt
2 tbsp chopped oregano
2 tsp cumin
1 1/4 cups water
Preheat your oven to 225˚F, and line a large baking sheet with parchment paper.
Next, simply mix all the dry ingredients together in large bowl, add the water, stir to combine and let stand for 5 minutes (the chia seeds will start to "gel" during this time and bind the ingredients together). Next, spread the mixture in an even layer across the prepared baking sheet, and place in the oven to slowly bake for 2 1/2 hours (or until golden and firm). Allow the slab to cool on the pan, and then break into desired sizes.