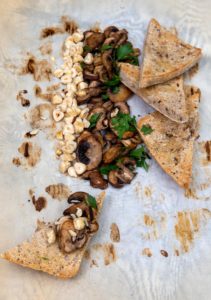 Roasting the mushrooms is another great way to cook mushrooms either for a pasta topping or simply to put on top of crisp, salty toasts for an appetizer or a light lunch.
2 lbs. of any type of mushrooms, coarsely chopped
¼ olive oil
2 tsp. kosher salt
toasting bread of your choice, ciabatta, baguette etc.
⅛ c. toasted, chopped hazelnuts
1 tbsp. chopped parsley parmesan cheese, shaved pieces (number depends on slices of toast)
Preheat the oven to 425°F. Line a baking sheet with a piece of parchment paper.
On the baking sheet, toss the mushrooms with olive oil and one teaspoon of the salt. Spread the mushrooms out evenly and bake for 25-30 minutes.
While the mushrooms are roasting, cut thin or thick slices of ciabatta and drizzle with olive oil and a sprinkle of the salt. Pop the slices either into the toaster or broil on high in the oven after the mushrooms are done roasting.
Top each slice of bread with mushrooms, chopped hazelnuts, fresh parsley and a peel or two of parmesan.