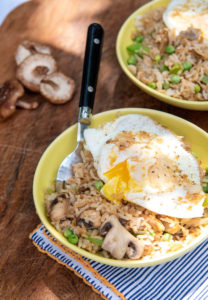 This tasty fried rice hits all the right notes with a crunch from the snap peas, an earthy flavour from the mushrooms and a hit of protein from the egg. Perfect for a vegetarian meal or a quick after-workout throw-together.
5½ tbsp. toasted sesame oil, divided
8 oz. mixed mushrooms, stemmed and thinly sliced (white, cremini, shitake work well)
1 tsp. kosher salt
½ tsp. freshly ground pepper
4 green onions, thinly sliced and separated into white and green parts
2 tsp. fresh ginger, grated
3 c. cold cooked white rice
2c. sugar snap peas, thinly sliced on the diagonal
½ c. frozen green peas
2 tbsp. soy sauce
1 tbsp. rice vinegar
4 large eggs
In a large non-stick skillet, heat two tbsp. of sesame oil over medium-high heat. Add in the mushrooms and cook until browned, eight-10 minutes. Sprinkle with half of the salt and half of the pepper and set the mushrooms aside.
Without cleaning out the skillet, add in another two tbsp. of the sesame oil. Heat the oil on a medium-high heat. Add the ginger and the white parts of the green onion to the skillet. Stirring frequently, cook for one to two minutes and then add in the cooked rice. Cook the rice until crispy, eight-10 minutes, occasionally stirring this mixture. Add in the snap peas, green peas, soy sauce, rice vinegar and cooked mushrooms. Warm the entire mixture through.
Remove from the heat and transfer the rice to a large serving bowl.
With a paper towel, wipe out the skillet and add in the remainder of the sesame oil. Heat the oil over medium heat. Once heated, crack in the four eggs and cook until the whites are cooked and the edges are crispy. Sprinkle the rest of the salt and pepper over the eggs and place them on top of the rice mixture.