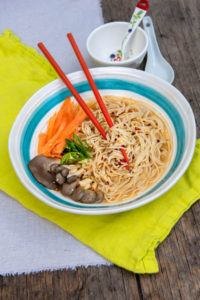 Ramen is an easy lunch time meal and can be changed to suit many eating habits and to accommodate for a love of specific veggies, in this case mushrooms!
4 portions of rice ramen noodles
4 cups of broth (cook's choice-bone, veggie, chicken)
1½ tsp. sriracha
1½ -2 tbsp. light miso paste
1 tbsp. Chinese cooking wine
1 tbsp. sesame oil
1 tbsp. grated fresh ginger
1 green onion
1 tsp. toasted sesame seeds
1 tbsp. grated carrot
1 c. mushrooms
In a pot, bring the broth to a boil and add in the sriracha, miso paste, cooking wine, sesame oil and grated ginger. Whisk the ingredients together until combined. Add in the ramen noodles and cook for two minutes and then add in the mushrooms. Remove the pot from the heat, cover and let sit for five minutes to steam the mushrooms.
While the noodles are cooking, grate carrot and thinly slice the green onion. In four serving bowls, evenly divide the carrot and the green onions. Pour the ramen into each bowl and top with a sprinkle of sesame seeds.
*This recipe is easily adapted for a serving of one, two or a double batch. This dish is at its best served immediately!