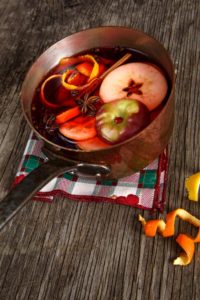 Mulled wine is a holiday have-to. Just be sure to use a red wine you'd want to drink on its own.
1 bottle red wine (we used Cabernet Sauvignon)
1/2 cup brown sugar
2 wide strips of orange zest
2 wide strips of lemon zest
4 cardamom pods
3 cloves
3 cinnamon sticks
2 star anise
1/4 cup brandy
1/2 tsp freshly grated ginger
1 mandarin orange, lemon and apple, sliced
Pour 1/2 cup red wine and the brown sugar in a medium-sized pot, and bring it to a boil, stirring constantly. Reduce the heat to low, add the orange zest, lemon zest and spices. Let simmer
5 minutes. Next, add the remaining wine, followed by the brandy, ginger, orange slices and lemon slices. Allow the mixture to simmer (not boil) for 20 minutes, add the apple slices, simmer 5 more minutes and serve.