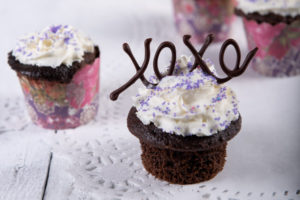 4 tbsp butter, softened
4 tbsp walnut oil
1/3 cup brown sugar, packed
1/2 cup granulated sugar
1 egg
1 egg yolk
1 tsp vanilla extract
3/4 cup Merlot or Cabernet Sauvignon
1 cup all-purpose flour
1/2 cup cocoa powder
1/2 tsp baking powder
1/4 tsp salt
1/4 tsp cinnamon
1/8 tsp baking soda
Preheat your oven to 350˚F, and line a 12-serving muffin pan with cupcake liners.
In a large bowl, whisk together the butter and walnut oil until smooth. Add the sugar, egg, egg yolk and vanilla, and beat again until creamy. Stir in the red wine, and mix until combined.
In a small bowl, combine the flour, cocoa, baking powder, salt, cinnamon and baking soda. Add the dry mixture to the wet, and mix to combine. Evenly spoon the batter into the prepared muffin pan, and bake in the preheated oven for 17 minutes. Transfer the cupcakes to a cooling rack. When cool, frost, garnish and devour.