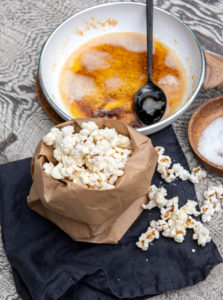 Popcorn to impress or just looking to shake movie night up, adding browned butter and truffle oil might be the ticket to elevating your popcorn experience!
1 tbsp. avocado oil
1 tbsp. truffle oil
½ c. popcorn kernels
1½ tsp. butter
Kosher salt
Coat the bottom of a Dutch oven with the two types of oil. Put a few popcorn kernels in the oil and heat over medium-high heat. Once the few popcorn kernels have popped, it is time to put in the remainder of the kernels. Give the pot a few shakes while the popcorn is popping. Once the popping slows down, remove the pot from the heat.
In a small saucepan, heat the butter over medium-high heat. Browning this quantity of butter will not take long, so stay by the pan. Once the butter is flecked with dark brown bits and smells nutty, remove from the heat.
In a large bowl, pour the popcorn, drizzle the browned butter and sprinkle with a few big pinches of kosher salt. Toss to combine.
Settle in and enjoy!