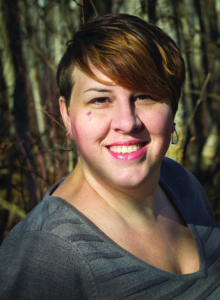 A T8N interview
Imagination has always been one of Lisa Alary's strong suits. In 2015, the creative designer was inducted into the Canadian Academy of Floral Art; since then, she has launched her own home-based business—Fleur-de-Lise. As you're about to discover, her innovative design work includes wearable art pieces and original arrangements to suit any style. When she's not busy in the studio, this friendly floral artist enjoys the idyllic activities of a modern-day flower child: hanging out barefoot at sunny folk-music festivals, watching independent and foreign films and revelling in life's simple pleasures with her husband, Bryan, and her spirited five-year-old son. And did we mention we kinda like her? Getting to interview this charming artist was not only a pleasure but also an inspiration. Ready to become a fan? Meet Lisa Alary.
t8n: When did your fascination with florals begin?
LA: It started when I was just a young kid getting into mischief. I loved to pop open and dissect the immature poppy buds growing along our fence. I'd pull up onions from the garden before they were ready—much to my father's chagrin—and mass-produced mud pies bedazzled with dandelions. On a professional level, it started in my early twenties after graduating art school, when I took a floral design course to satisfy a curiosity.
t8n: Can you tell us a bit about your education and training as a floral designer?
LA: I earned a Bachelor of Fine Arts in printmaking and got into floral design through continuing education courses. Most of my floral education came on the job—16 years and counting—and it's been quite varied. I've seen many different sides of the floral industry, starting at a chain and then working at small mom-and-pop operations before transitioning to higher-end trendy shops.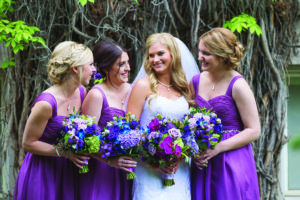 t8n: What prompted you to start your own home business?
LA: It was a natural progression; I need to feel like I'm pushing myself and growing in my craft. The further I go, the stronger my appetite to call my own shots and to have creative control over the design direction. I also have a particular interest in designing for events because I enjoy developing long-term relationships with clients.
t8n: What types of floral design does Fleur-de-Lise specialize in?
LA: I specialize in weddings, personal and corporate events. I like to think of myself as a bit of a design chameleon—comfortable in a number of different styles. I love the challenge of pulling off the unconventional in a tasteful and beautiful way.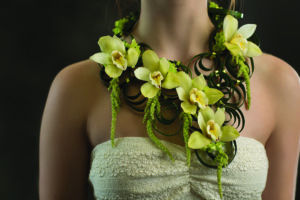 t8n: What are your favourite materials to work with?
LA: I definitely prefer fresh-cut plant material to permanent botanicals (silks). There's a certain magic to the textures, fragrances and tactile qualities of fresh product. You just can't top Mother Nature! I also find the impermanence of florals compelling—a reminder that nothing is forever and that's what makes it all so precious.
t8n: From where do you draw inspiration for your pieces?
LA: From the product itself. Flowers give so many cues in the subtleties of their colours, patterns and forms. Exploring colour harmonies and textural contrasts really drives my work.
t8n: What artists do you admire?
LA: In the floral world, so many! How much room do you have?! Derrick Foss, Hitomi Gilliam, Francoise Weeks, just to name a few. In the visual arts, I'm a huge fan of the late Mexican painter Frida Kahlo, land artist Andy Goldsworthy and the street art/graffiti genre in general.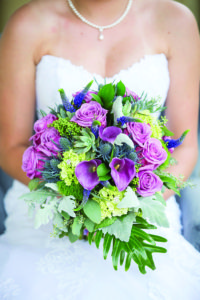 t8n: What factors do you consider when creating personalized pieces?
LA: With weddings, I try to get a feel for the couple—who they are, their personality and aesthetic. I get a lot of those cues from other choices they've made—venue, attire, other decor choices—and I build on that. Some clients are very specific about what they want; others are not. In those cases, I need to hone in to determine their preferences. Then I choose the best colour palette and design with their setting and budget in mind. For corporate clients, it's important to understand their brand and create something that
celebrates that identity and what they stand for.
t8n: Is there a particular style that you are especially drawn to?
LA: I really enjoy strong, structural form that involves visual tension and plays up negative space. I love the careful-handedness of the Japanese style Ikebana and also the European approach, where flowers are more an art object and less a "flower arrangement." I'm also big into sculptural and architectural styles.
t8n: Of the projects you've completed, do you have a favourite?
LA: My favourite piece from the last year is a floral necklace made of hand-formed grass loops and orchids. I've done a few collaborative projects with up-and-coming photographers, hair and makeup artists and models. I love being part of a team with different specialties all working toward one goal.
t8n: Do you have a dream project in mind?
LA: I'd love to do some really far-out, edgy pieces for an all-floral fashion show and to publish a coffee-table book of my floral designs. My absolute dream is to complete the European Masters Certification Program. It involves some really rigorous studying and testing, but it also means a trip to Belgium—flowers, chocolate and beer. Sounds like a dream to me!
t8n: Do you have any advice for prospective floral designers?
LA: Floral design is a truly rewarding craft, but prepare to work your buns off and juggle a lot of pressure. Dealing with perishables and managing deadlines and clients who are counting on you to deliver at often the most emotionally charged occasions of their lives can be intense. You also have to stay humble and keep your mind open to learning from as many sources as possible.
t8n: What is your favourite flower?
LA: Orchids of any variety are my absolute favourite, but I also really love foliage. It's so much more than leaves that fill in a bouquet. There are so many amazing textures, colours and shapes, and they can be as relevant and functional a design element as the biggest, showiest bloom.
t8n: Where can readers see your work?
LA: The best way is by following Fleur-de-Lise on Facebook (facebook.com/fleurdelisefloraldesign), Instagram (@fleurdeliseca) and my website (fleurdelise.ca). I want to hold some pop-up shops and events later this year. I'm also looking forward to competing in the Maple Leaf Cup, where nationwide competitors from Canada's vibrant floral community create designs in several categories in just a few hours. It's at the Edmonton Home and Garden Show on March 24.  t8n