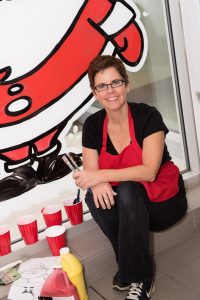 As a form of advertising, window painting has been around for a very long time. So long in fact, that when most of us see those holiday snowmen scenes painted onto glass, we never really stop to think about the effort and skill that went into creating them. But windows don't paint themselves. That's the job of talented people like Laurel Hawkswell. Laurel is a freelance artist who's been bringing seasonal cheer to store windows for over 25 years—a job that's more complex than you might guess. Now, a master of her craft, Laurel paints backwards onto an oversized glassy canvas, which is often darkened by the night sky beyond. But despite her years of practice and natural talent, Laurel never stops pushing herself to improve her art. Clearly, it shows. Take a look.
Laurel has been painting for just about as long as she can remember, so it only seemed natural for her to enrol in Grant MacEwan College's Fine Arts program after she graduated from high school. After that, it was time to enter the professional world. "My first job as a graphic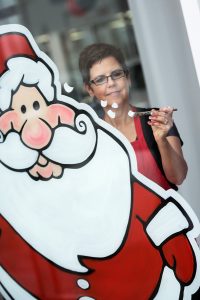 designer was working for a company that owned a few bars around the city," she recalls. "That job really taught me a lot. They had me doing all sorts of projects that I really had no experience in, like window painting. But you can't really say no to your client, so I just had to figure it out myself along the way, and it all seemed to work out." From these first jobs, Laurel got a taste for freelancing, and she's been doing it ever since.

When Laurel gets hired by new clients, they tend to want to work closely with her on the sketches to make sure their ideas are being represented properly. But this kind of supervisory relationship is short-lived. "After that first job, clients really begin to get comfortable with my work, and they start to give me a lot of free reign with the designs. I build a lot of trust with my work, and that gives me a lot more creative freedom in my art." That creative freedom comes paired with a lot of technical skill, especially when it comes to painting backwards so that her designs appear normal on the other side of the glass. "When I started out, I would sketch everything out on paper, turn the paper over and hold it up to the light. I'd use that backwards image as a guide. Now though, I can even do lettering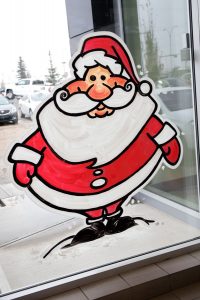 backwards without having to think too hard about it." That's a skill that they don't teach you in art school.
Being positioned on busy streets, Laurel's art probably reaches a lot wider of an audience than many gallery exhibitions do. But she isn't interested in becoming famous or recognizable. "Sometimes people tell me that they can immediately recognize window paintings as one of mine. They mean it as a compliment, but I always take it as a sign that I need to change things up. If I'm not pushing myself as an artist, I'm not really doing my job." But whether they recognize her style or not, Laurel is always humbled when passersby show appreciation for her creations. So if you happen to see her spreading a little holiday cheer in the window of your favourite shop, don't be afraid to send some of that cheer back her way.  t8n