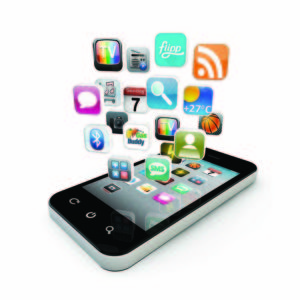 Smart phones and finances—the two can be an explosive combination in the hands of those who love online shopping too much. However, with some good advice, accountability and planning, downloading some apps to your smart phone can help make managing your money (and even saving it!) a rewarding and educational task. Ready to discover some apps from the App Store (for iPhone users) and Google Play (for Android users)? Well then, may we suggest…
Flipp
Ever wondered how the sheer volume of retail flyers sent out every week makes it possible for anyone to keep track of them. Flipp does a pretty good job. There are a few apps in this market niche, but Flipp rises to the top for not only having most of the coupons and ad flyers in circulation but also for allowing you to search for specific items or deals at stores near by. The downside to the app is what it costs you in inkjet cartridges—you'll need to print coupons off at home to use in-store, as retailers cannot scan them off your phone. However, by printing only the coupons you want to use, you can reduce that carbon footprint while still saving money. And maybe you'll find a deal on ink!
Stock Trainer
With a little luck and a lot of competent advice from a stock-market professional, it's possible to double your investments in a ten-year span. For the rest of us who can't pull that off, there's Stock Trainer, an app that teaches users how to navigate the market by buying and selling stocks with virtual money. You get 20,000 virtual dollars to invest, and the app charts your success…or lack thereof. There's no real "training" in that the learning is self guided, but it's basic enough to understand and gives you access to every bit of stock performance data the pros have. Learn things others aren't, and give this app a try!
Spending Tracker
With credit being easily accessible and invitations to spend lurking around every corner, it's easy to forget about the bottom line: our account balances. Spending Tracker is one app designed to identify your spending habits and show you how to live within your means. It's easy to learn (thanks to an intuitive, user-friendly format), but requires some work—meaning, you'll have to enter all the data relating to your expenses, bills and spur-of-the-moment purchases yourself. Can't be honest with yourself, or don't want your partner to know how often you're in overdraft every month? Then this probably isn't the app for you. Want to learn financial discipline amidst your efforts? Spending Tracker is a great place to start.
Fast Budget
Competition to Spending Tracker, Fast Budget isn't as visually appealing, but its basic ledger-sheet format is easy to navigate, and the ingenious inclusion of an in-app calculator (no flipping back and forth here!) makes this product a winner just the same. And fear not about casino night, as it even has a preformatted category to track gambling losses. Not sure which one to use? Give each a try, and see which one works best for you!
GasBu
ddy
What's one of the great North American pastimes? Watching the fuel prices go up and down. And though we're not as hardcore about it as our southern neighbours, Canadians also love to go searching for the cheapest gas. In that sense, GasBuddy is the perfect app to get this done. Some users complain about the aggressiveness of ads and other usability issues, but it still does what it says it does, and that's all that matters. And GasBuddy's not just for big cities. Whether you're in Lumby, Langenburg or Legal, this app will tell you where the cheapest gas is and how to get there from your current location. How can you go wrong with that? Go do some humblebragging if this one's already on your phone. t8n